It's that time again… when I have too many cds to write up fully. You should know the drill by now. Short review for each cd, with links to songs where possible. Enjoy.
Blowfly – "Blowfly's Punk Rock Party" (Alternative Tentacles)
Blowfly is the filthiest thing ever. The alter ego of '70s songwriter Clarence Reid, Blowfly takes popular tunes and reworks them into sexually explicit versions, much like a porno freak Weird Al. This album is all punk songs. The Clash's "Should I Stay Or Should I Go?" becomes "Should I Lay This Big Fat Ho?", Black Flag's "TV Party" becomes "VD Party", etc. If you know the originals, then funny overcomes the disturbing. The last six songs are slightly cleaned up for airplay, and they're still really wrong.
Download "Punk Rock Party megamix"
The Bronx – "The Bronx (II)" (Island Records)
The Bronx return with their second full-length, and major label debut. It sounds like they've been listening to a lot of Foo Fighters and AC/DC. The screamy angriness of their first album is pretty much gone here, and it makes for a lesser album. It's good, but not awesome, which is sad. A couple of tracks make for a rocking experience, but for the most part, this album is completely disposable.
Download "History's Stranglers"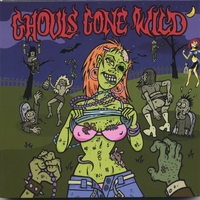 Various Artists – "Ghouls Gone Wild" (Poptown Records)
This right here is a compilation of tracks dealing with subjects such as the undead (both zombies and vampires), as well random beasties, to say nothing of sadomasochism. Most of the artists are either straight-up rock or rockabilly acts, although there are a couple electronic Ministry-type bands, too. Fun for late nights, and it'll aid your parties immensely come Halloween.
Electric Six – "Switzerland" (Metropolis Records)
More of the same from these guys. As we all know, Electric Six want to be Queen so fucking bad, they covered "Radio Ga Ga" on their last record. Suffice it to say, there are not Freddie Mercury and company. And unfortunately, on this album, we don't even get a "Gay Bar" or "Danger! High Voltage!" to liven stuff up. There are a couple disco-rock tracks that rise above the crap, but they're still somewhat weak.
Roy & the Devil's Motorcycle – "Because of Women" (Voodoo Rhythm)
This could be Social Distortion, only with more fuzz-tone in the guitars, at least on the vocal tracks. The more instrumental stuff sounds pretty Ry Cooder-ish. The record's got a sleepy sound to it, that's pretty damn good for lazy afternoons. The covers (4 out of 9 tracks) are the better stuff here, even though they tend to lean on a Black Keys knock-off sound.
Download "Dark Sunday Evening"
The Come 'n' Go – "2" (Voodoo Rhythm)
Dirty, nasty garage rock that sounds like early JSBX or Oblivians. Conveniently, they even cover the Oblivians' "There's No Butter For My Bread." This is blues-rock-garage that'll wake any listener out of a funk and move them to get a little shake in their hips. Granted, they're from Switzerland, and you can understand maybe one word in five of what they're saying, but the lack of coherency just makes you concentrate more on the rock.
Download "Manual Information"