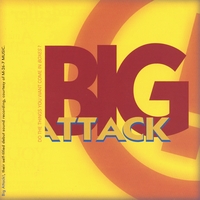 Big Attack – "Big Attack"
(M-26-7 Music)
Big Attack is punky, with a touch of ska and reggae rhythm. The lead singer's voice is informed by Avail's rock, Rancid's slur, and Hot Water Music's declamatory style. It's politically informed – animal rights, worker's rights, and anti war, in Against Me!'s style of lyricism, but with a musical style that lies somewhere in the wastelands that border the GC5's rock 'n' roll / oi! (a la the Hudson Falcons), the melodic hardcore of None More Black, and the sing along of the Explosion. It's a hodgepodge, to be sure – "Moneylender" is kinda rockabilly, while "First Son" delves into Mission of Burma sketchiness.
Everything is good, but can easily be traced to its influences. Each song, you can listen to it and say, "Oh, there's the hardcore bro-hymn sing-along part that they borrowed from Pennywise" or "that's the nuevo-psychobilly thing that Tiger Army does." I mean, seriously… there's no way to describe Big Attack without mentioning at least five or six other bands.
There comes a time as a critic when you've heard so much music that something has to blend its influences seamlessly and amazingly to really make a positive "wow" result. Playing "spot where they lifted the riff / vocal style / drum fill / etc." gets old after three or four hundred cds.
"First Son"
"Cold Hearts"
"Do The Things You Want Come In Boxes?"
"Keep us Apart!"